Model NO.:

Nail Glitter

Appearance:

Powder

Type:

Natural

Particle Size:

100- 200 Micron

Trademark:

KOLORTEK

Specification:

EEC, FDA, Approval

HS Code:

32064900
Colour:

Multicolors

Usage:

Cosmetic, Nail Art/ Craft

Composition:

Mica & TiO2

Mesh:

200

Transport Package:

Drums or Cartons

Origin:

China
Nail Glitter Dust Cosmetic Grade Pigments Supplier
Kolortek cosmetic grade glitters are designed especially for decorative cosmetic applications in compliance with the legislation of colorants and other cosmetic requirements. 
They are available in square and hexagonal particle shapes and particle sizes of 100 and 200 microns(.004", .008"). Depending on the particle size, the glittering effect varies from sparkling to shimmering; the bigger the particle, the more sparkling effect.
Benefits:Â 
• comply to the standard of FDA and European regulations for cosmetics
 
• high shine and sparkling effect
 
• Suitable for nail art decoration with nail polish, UV builder gel and etc.
 
• Perfect partner for nail art, help to create shiny and durable nails
 
 
Application:
Mixing into nail polish (suspension base recommended), there is no bleed or curling.
Using for nail art, Soaps, bath and body products.
Crafts, resin jewelry, mixing into paint, stamping, scrapbooking.
All types of decorative cosmetic applications such as powders, gels and emulsions (particularly nail polish). They can also be used for craft applications.
 
Typical use level: 3-5%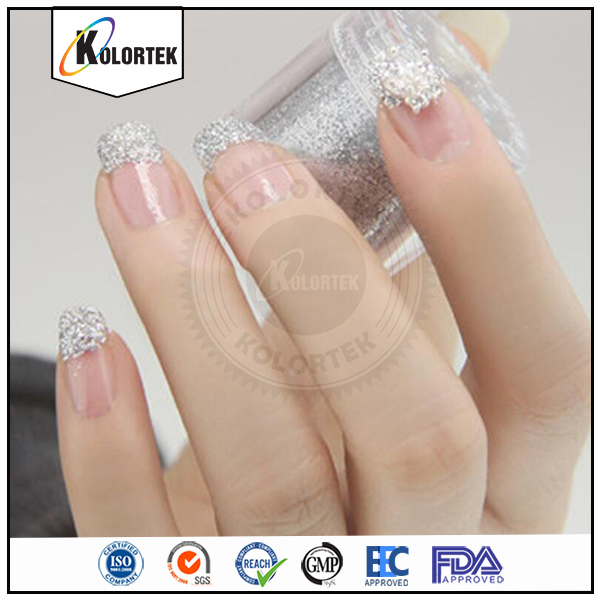 KOLORTEK other pearl pigments
Kolortek Co., Ltd. is a leading professional manufacturer of effect pigments, and cosmetic color additives, specializing in pearl pigments, cosmetic iron oxides, mica powders and cosmetic fillers, etc. 
Also as a manufacturer, to support all the demanding customers, Kolortek're going to focus on value addition in order to satisfy the needs of all our customers. The valued-added service spans:Â 
.Special Packings
.Own Brand Labeled
.Product Images Support
.Formulation Guideline Support
.And More…
Delivery time:
If we have stocks, within 2 weeks, if not , within 4 weeks.
Packaging:
25kgs per carton or drum, 450kgs per pallet.
FAQ:

1.Are your products compliant to FDA and EU standards? And have you done REACH registration for European markets?
Yes, absolutely! We have been sold our popular products around the world for more than 10 years, and we can provide all papers files.
 
2.What is the minimum order quantity?
The minimum order quantity depends on the product range. For most items it is 25 KG, if you want smaller order, you have to pay extra USD1.00 per kg for 10kg packing.
 
3.Can you provide samples?
Yes. We can provide samples depend on your detailed requirments. We have a sample package which contains all our pigment colors, 2-3 grams each color.
ThyssenKrupp Elevator Spare Parts
ThyssenKrupp Elevator Spare Parts, ThyssenKrupp Elevator Parts, ThyssenKrupp Lift Spare Parts, ThyssenKrupp Lift Parts
ThyssenKrupp Elevator AG
The Elevator Technology business area brings together the ThyssenKrupp Group's global activities in passenger transportation systems. With sales of 7.2 billion euros in fiscal 2013/2014 and customers in 150 countries, ThyssenKrupp Elevator is one of the world's leading elevator companies. With about 50,000 skilled employees, the company offers innovative and energy-efficient products designed to meet customers` individual requirements.
The portfolio includes passenger and freight elevators, escalators and moving walks, passenger boarding bridges, stair and platform lifts as well as tailored service solutions for all products. 900 locations around the world provide an extensive sales and service network to guarantee closeness to customers.
The business is organized in five operating units, four of which concentrate on the regional elevator business (Central/Eastern/ Northern Europe, Southern Europe/Africa/Middle East, Americas and Asia/Pacific). The other one, which operates globally, is: Access solutions (passenger boarding bridges/chair, service and platform lifts, as well as home elevators).
ThyssenKrupp Elevator Asia Pacific
ThyssenKrupp Elevator Asia Pacific is active in the Asia Pacific market with a dense network of branches and offices offering new installation, modernization and service business for the complete product range.
Our manufacturing factories are located in the following areas:
Songjiang Elevator Plant in Shanghai, China
Zhongshan Elevator Plant in Guangdong, China
Cheonan Elevator Plant, Korea
Zhongshan Escalator and Passenger Boarding Bridge Plant in Guangdong, China
Access Plant in Shanghai, China
ThyssenKrupp Elevator (China)
ThyssenKrupp Elevator entered China market in 1995. As the fast development of business and production, we have about 10,000 staffs and four factories over the country. We provide elevators, escalators, moving walks, passenger boarding bridges, and accessibility lifts.
ThyssenKrupp Elevator (China) offer installation, modernization and service to all product series, depending on branches, office network, local factories and International Technical Services (ITS). Our goal is to be an efficient elevator solution provider to fit different uses and demands. Anywhere, anytime. More...
ThyssenKrupp AG in brief
ThyssenKrupp has 155,000 employees in around 80 countries work with passion and expertise to develop solutions for sustainable progress. Their skills and commitment are the basis of our success. In fiscal year 2013/2014 ThyssenKrupp generated sales of €43 billion.
Innovations and technical progress are key factors in managing global growth and using finite resources in a sustainable way. With our engineering expertise in the areas of "Material", "Mechanical" and "Plant", we enable our customers to gain an edge in the global market and manufacture innovative products in a cost and resource efficient way.
ThyssenKrupp Elevator Spare Parts, ThyssenKrupp Elevator Parts, ThyssenKrupp Lift Spare Parts, ThyssenKrupp Lift Parts
CEP Elevator Products ( China ) Co., Ltd. , https://www.zjelevatortravelingcable.com